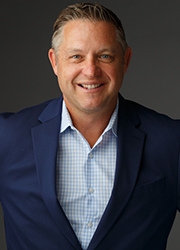 Scott Duhs, along with his brother Craig, founded Duhs Commercial in 2008. Since entering into commercial real estate in 1989, Scott has consistently been one of the top retail brokers in San Diego County. After a number of years at different Brokerage Firms, he and his brother decided to take a step of faith and open up their own Retail Brokerage Company. Over the last eight years, in spite of the troublesome economy, Scott has continued to thrive, specializing in Retail Leasing and Investment Sales.
In his 27 year career, Scott has completed over 1,700 lease and sale transactions with total consideration in excess of $500 million. He has sold and leased over 7 million SF of retail space in Southern California. As a broker, he and his team are currently responsible for the lease-up of over 95 properties.
Scott graduated from San Diego State in 1989 with a degree in Real Estate and Finance. His interests include fly fishing, swimming, and surfing. Scott is married with two daughters and resides in Carmel Valley.
Current Affiliations:
Member – ICSC since 1989
California Licensed Salesperson
California Licensed Broker
Attends Venture Church in Encinitas
Business Marketplace Ministry Founder
Walking on Water – Board Member
Co-star Power Broker (2012-2015)